Learn more about the new products presented at Vision Stuttgart 2018 show:
JAI presented a range of new industrial area scan and line scan cameras:


A selection of the new JAI products displayed at Vision. From left to right: GO-5000MP-USB polarized, Apex AP-3200-USB, Sweep SW-4000TL-PMCL and Sweep+ SW-4000T-10GE
New 3-sensor line scan camera with 10 GigE interface (Sweep+ Series):
JAI demonstrated the world's first prism-based RGB color line scan camera (Sweep+ SW-4000T-10GE) based on a backwards compatible 10GBASE-T GigE Vision interface delivering 10 Gbps output. The camera is backwards compatible down to NBASE-T (5 Gbps and 2.5 Gbps) and 1000BASE-T (1 Gbps). With a resolution of 4096 pixels per channel and a maximum speed over 100 kHz (100,000 lines/second) this camera is designed to cover a wide range of industrial line scan imaging applications – from the lowest to the fastest speeds.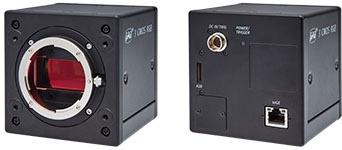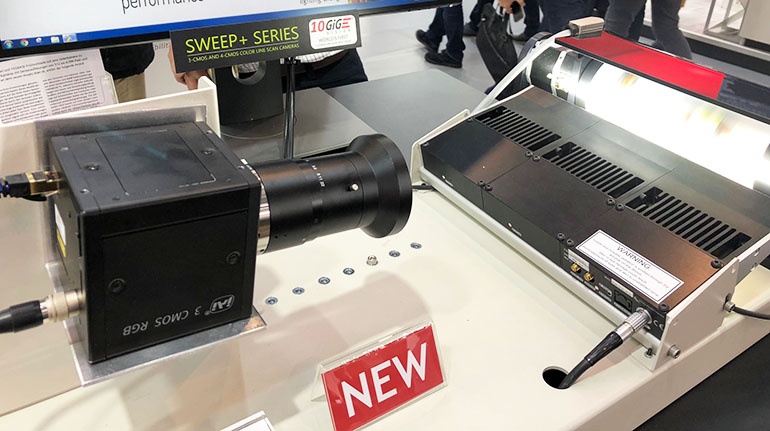 New JAI 3-CMOS color line scan camera with 10 GigE Vision interface at display at Vision 2018. (Model Sweep+ Series, SW-4000T-10GE).
Learn how to select the right line scan camera technology for high-speed industrial production applications requiring color or multi-spectral imaging:


New trilinear color line scan camera in the Sweep Series:
JAI has added a new high-speed trilinear CMOS color line scan camera (SW-4000TL-PMCL) to its Sweep Series camera family. It features 4K (4096 pixels) resolution and a maximum full line rate of 66 kHz for 24-bit non-interpolated RGB output. Features include horizontal and vertical binning, built-in color space conversion functions as well as direct encoder connection and auto-detection of scan direction.



NEW: JAI Sweep Series, SW-4000TL-PMCL. Trilinear
CMOS color line scan camera with 4096 pixels
New polarization camera in the Go Series:
JAI also launched a new polarization area scan camera in the Go Series. The new model (GO-5100MP-USB) is built around Sony's IMX250MZR CMOS image sensor. With 5.1-megapixel resolution and an innovative 4-way polarized filter design it is ideal for inspecting plastics, glass, and other shiny materials in industrial vision applications.



New JAI 5-megapixel polarization area scan camera with Sony sensor IMX250MZR and USB3 Vision interface. (Model: GO Series, GO-5100MP-USB)
Expanded Spark Series of high performance area scan cameras:
Among the new cameras also displayed was a new 12.4-megapixel low noise/high performance industrial area scan cameras belonging to the Spark Series. These cameras utilize the Sony Pregius IMX304 CMOS image sensor and include both color and monochrome models. The model SP-12401-PGE provides 9.3 fps over a GigE Vision interface whereas the SP-12401-USB, with a USB3 Vision interface, delivers 23 fps, and the SP-12400-PMCL with a Camera Link interface adopts the Pregius IMX253 and works in 64 fps. Color models feature several advanced color imaging features including multiple color space conversions, built-in 5x5 de-Bayering capability, and a 6-way color enhancement function.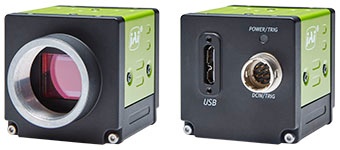 NEW: JAI Spark Series ,SP-12401-USB. 12.4 megapixel
with advanced color imaging features.
Microscopy solution with the new Apex Series 3-CMOS cameras:
On the booth, visitors could also see see a demonstration of a range of new 3-CMOS prism based color RGB area scan cameras in the Apex Series (AP-3200T and AP-1600T) with 3.2-megapixel and 1.6-megapixel resolution respectively. These cameras are developed to meet the most demanding color vision applications in machine vision and medical imaging. Special Apex models are dedicated microscopy applications in life science and industry and compatible with ImagePro from MediaCybernetics and open source μManager.




New JAI 3-CMOS prism based color RGB area scan cameras for
industrial applications with the most demanding
color vision applications. (Model: Apex Series, AP-3200T-USB).



New JAI 3-CMOS prism based color RGB area scan cameras for
life science and microscopy with challenging
color applications. (Model: Apex Series, AP-3200T-USB-LS).
The monitor shows a microscopy image from a prism-based 3-CMOS area scan camera (Apex Series) compared to a Bayer camera image (Go Series). If you have a need for supreme color images in your life science and microscopy imaging applications, your should consider and try out the Apex Series.

Learn how using the unique advantages of prism technology helps you to achieve superior image quality factors, such as real and full-color depth, improved color contrast, and better color differentiation.


Learn more about Spark, Go, Apex, Sweep and Sweep+ series.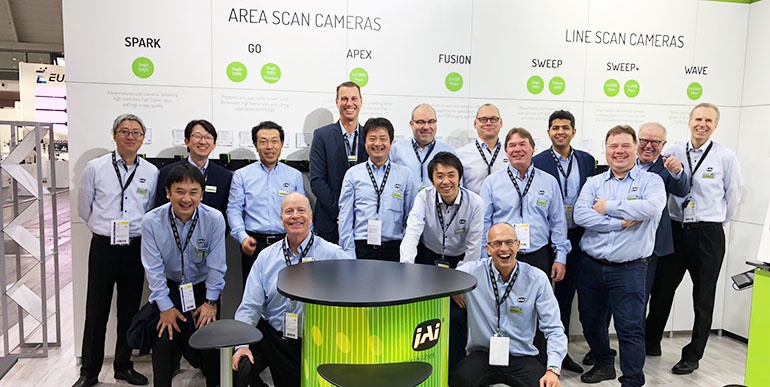 The JAI Vision team would like to thank all the visitors who came to JAI's booth showing great interest in our new products. JAI will be back in Stuttgart in 2020. See you there!
Did you not attend Vision Stuttgart?
Are you did not attend Vision Stuttgart in November, but would like to know more about the new cameras?...Please contact a JAI engineer: