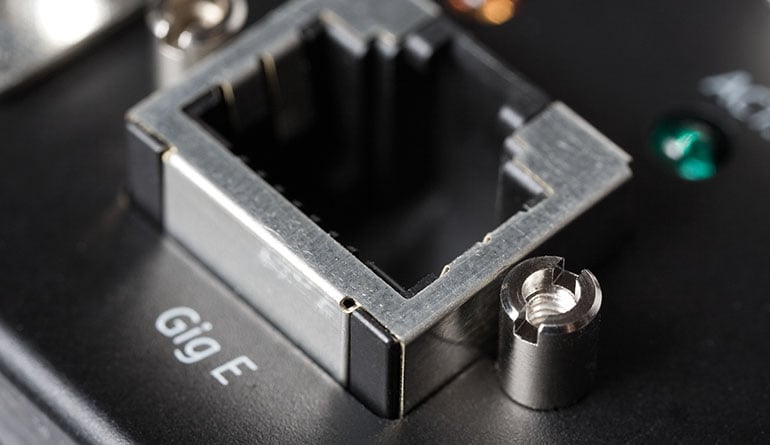 Gigabit Ethernet (GigE) has a long history (2006) in the machine vision industry and JAI was among the first to adapt to the technology. Gigabit Ethernet in machine vision is supported by the GigE Vision standard ensuring that hardware and software from different vendors can interoperate seamlessly over GigE connections.
10GigE Technology Guide
Learn about the 10GBASE-T (10GigE) interface and get answers to key questions about the use of 10GigE and SFP+ in high performance vision systems.

DOWNLOAD WHITE PAPER
Flexible and cost efficient:
GigE in machine vision offers high flexibility thanks to the possibility to use cable lengths of up to 100 meters and a big variety of commercially available system components such as NICs, switches, cables, etc. Image data is transferred right into the computer without requiring a frame grabber.
To simplify the cabling even further several GigE cameras from JAI offer PoE (Power-over-Ethernet) connections. Together, the use of standard components and the simplicity of integration lead to cost savings.
Important to understand however is that the actual speed of Gigabit Ethernet - which is defined by IEEE standard 802.3ab to be 125 Mbytes/s, or 1,000,000,000 bits per second - is not fully available to the transmission of image data because part of the bandwidth is occupied by various pieces of header information. Effective GigE bandwidth for image data is 115 Mbytes/s.
Many machine vision installations in automated production lines are based on multiple cameras and due to its flexibility GigE is often the most attractive interface. Unique to GigE is PTP (Precision Time Protocol), which is a protocol to synchronize clocks throughout a network via a hierarchical master-slave architecture. Several JAI cameras come with PTP as a standard feature.
Scalable to bandwidth requirements:
Many of the latest CMOS image sensors deliver higher resolution, higher dynamic range through higher bit depths, and high frame rates. Features that both individually, and especially in combination, increase demand on the bandwidth used for data transfer. Therefore, several JAI cameras are now available with a 10GigE interface.
GigE continues to grow with respect to its overall demand for bandwidth. As a transmission network, typical Ethernet speeds range from 1 Gbit/s to 100 Gbit/s to 400 Gbit/s. As a machine vision interface, most cameras still operate at the well-proven 1000BASE-T speed of 1 Gbit/s. But increasing numbers of models are being equipped with faster interfaces, including NBASE-T (2.5 Gbit/s and 5 Gbit/s), 10GBASE-T (10 Gbit/s) and even higher.
Several newer JAI cameras are available with 10GigE interfaces (10GBASE-T) that have the ability to auto-negotiate to a lower speed depending on what the network or connected PC will support. They can adjust from their maximum 10 Gbit/s speed down to 5 Gbit/s, 2.5 Gbit/s, or 1 Gbit/s to match the available bandwidth.
Furthermore, some JAI camera models are available with an SFP+ cage, which allows the customer to utilize a fiber optical connection instead of traditional copper cables. 10GigE via SFP+ cameras do not have the auto-negotiation feature, so they require a full 10 Gbit/s of available bandwidth. The advantages of using a fiber optical cable include the length of the cable - up to 10 kilometers long – and immunity to electrical interference that can affect copper cables. Applications in the paper industry are an example of where long cables are a typical requirement.

Performance overview:
1 GigE (1000BASE-T)
NBASE-T
(2.5GBASE-T)
NBASE-T
(5GBASE-T)
10 GigE
(10GBASE-T)
10 GigE via SFP+ fiber
(10GBASE-R)
Max throughput:
1 Gbit/s
2.5 Gbit/s
5 Gbit/s
10 Gbit/s
10 Gbit/s
Effective throughput:
115 MB/s
287.5 MB/s
575 MB/s
1150 MB/s
1150 MB/s
Max cable length:
100 M
(Copper)
100 M
(Copper)
100 M
(Copper)
100 M
(Copper)
10 KM
(Optical fiber)
1 GigE
(1000BASE-T)
10 GigE
(10GBASE-T)
Can auto-negotiate to 1000BASE-T, 2.5GBASE-T- and 5GBASE-T
10 GigE via SFP+ fiber
(10GBASE-R)
Go Series
Megapixel area scan cameras with small dimensions, high frame rates and cutting edge sensor technology.
✓
Spark Series
Advanced area scan cameras delivering high resolution, high frame rates, and high image quality.
✓
Apex Series
3-CMOS prism-based RGB area scan cameras providing supreme color fidelity and spatial precision.
✓
✓
Fusion Series
Multi-sensor area scan cameras for simultaneous capture of multiple spectral bands in the visible and NIR regions.
✓
✓
Sweep Series
Trilinear color line scan cameras.
✓
✓
✓
Sweep+ Series
Multi-sensor, prism-based Color + NIR line scan cameras
✓
✓
✓
10GigE Technology Guide
Learn about the 10GBASE-T (10GigE) interface and get answers to key questions about the use of 10GigE and SFP+ in high performance vision systems.

DOWNLOAD WHITE PAPER


Contact JAI for help:
Let us help you to find the perfect camera to meet your application requirements in your medical and life sciences application.
Contact JAI