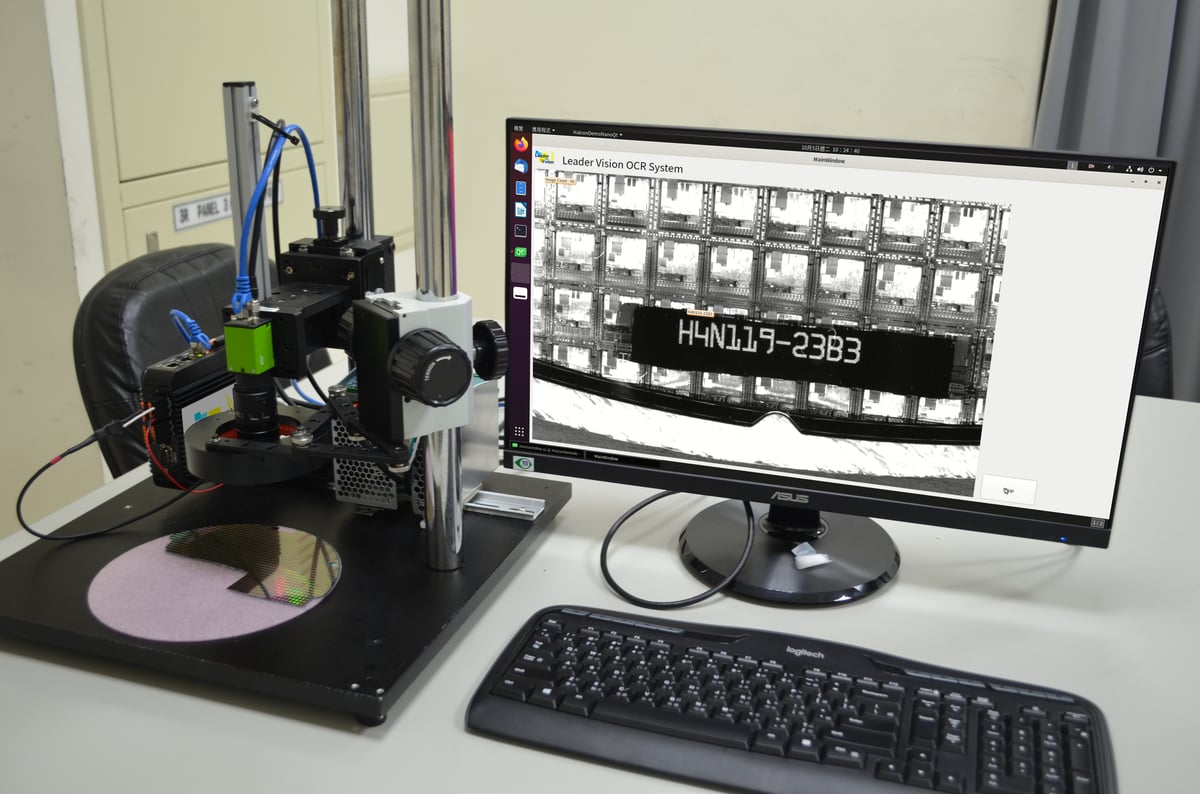 In the electronics and semiconductor industries, accurate processes are a prerequisite for precision products. Leader Vision, a machine vision distributor and system designer for customized projects based in Taiwan, has developed a wafer OCR reading system using the JAI GOX-2402-PGE camera to ensure the seamless production of wafers.
We recently caught up with Leader Vision's owner, Ming Jou Tsai, to talk about the integration of the JAI GOX-2402-PGE camera with their new wafer OCR reading system. Here are the highlights.
JAI A/S: Briefly tell us about your company and your new wafer OCR reading system.
Ming Jou Tsai (MJT): Leader Vision is Taiwan's leading machine vision distributor and system designer. Our new embedded wafer OCR reading system integrates all required interfaces and functionalities in a small footprint. It guarantees reliable and accurate code recognition with best-in-class speed and stability.
JAI A/S: What were the challenges you faced with the earlier system?
MJT: In wafer OCR reading systems, codes are lasered on the reflective wafer surfaces. Therefore, they are difficult to identify and read for conventional machine vision systems. The previous system delivered unsatisfactory results, mainly because it had been designed as a standard product with fixed specifications. Hence, it did not offer customers the flexibility to customize certain functions such as optical character verification (OCV), reading data and barcodes and aligning objects for future systems when required by customers.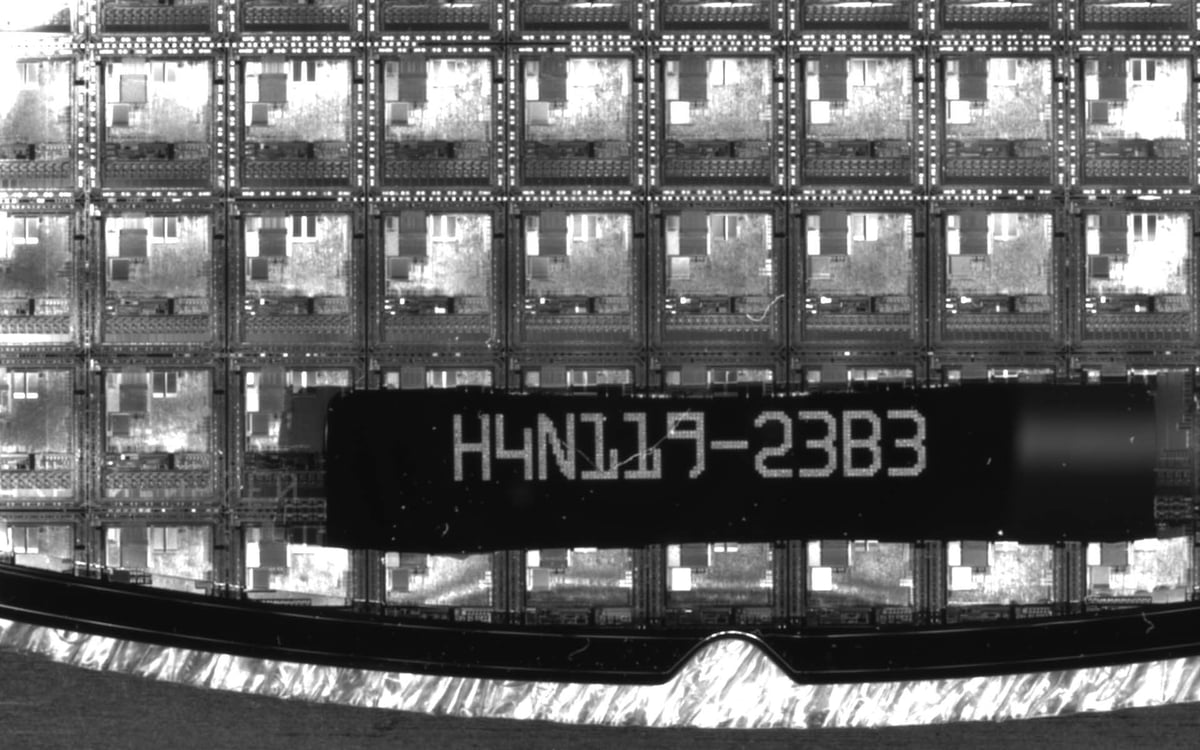 Codes lasered on reflective wafer surfaces may be difficult to identify and read
Another challenge was that the system had to be light and have a simple structure to enable easy integration with any existing wafer manufacturing facility. The previous system was not that compatible or adaptive.
JAI A/S: How was JAI's GOX-2402-PGE camera found to be ideal for your requirements?
MJT: This camera not only helped solve the legacy problems but its rich features gave us additional advantages. For one, the resolution of the GOX-2402-PGE was ideal for our system. It delivers 2.3-megapixel Bayer color output at up to 50 fps over a GigE Vision interface.
Another strong point is the camera's speed — it can recognize codes at an average speed of 20 to 30 codes per second. We also considered the camera's high stability and industrial-grade reliability before zeroing in on it.
A light system with a simple structure enables easy integration with any existing wafer manufacturing facility.
As electronics and semiconductor manufacturers often operate within limited clean-room environment spaces, the compactness of the GOX-2420-PGE is a huge advantage. And lastly, the camera is extremely lightweight — it weighs just 62 grams.
Reliably identifying, reading and tracing every wafer throughout the production process is a critical task and this JAI camera is the perfect solution for it.
Overall, I can say that the GOX-2402-PGE camera integration with our system has enhanced the application's stability, accuracy, and flexibility.
JAI A/S: You said flexibility of application. Can you elaborate?
MJT: Sure. Our system's flexibility comes from its customizability. Embedded vision technology is not about a one-size-fits-all. Systems must be versatile to fit different customers' varying needs. We have focused a lot on this and developed an agile and adaptive solution that allows the transfer of the entire system, including the source code, to customers' ecosystems. It enables them to achieve high flexibility in their design and production processes.
JAI A/S: And what about the price? Did the cost-effectiveness of this camera help?
MJT: The price-performance ratio of the GOX-2402-PGE is impressive. The cost-effectiveness of this industrial area scan camera helped us rationalize the price of the end system. As a result, we can offer a superior product at a reasonable price.
JAI A/S: The adoption of machine vision technology has risen significantly. Can you talk about the biggest trends in machine vision? And how is Leader Vision poised to take advantage of them?
MJT: Sure, current machine vision trends include 3D inspection, embedded systems and vision-guided robots. Leader Vision's talented engineers have the knowledge and expertise required to perform these high-end applications. Also, our laboratory is equipped with precise motion control and robot arms to showcase the new technology to our customers.
Staying ahead with cutting edge technologies is a strategic priority for us. It enables us to support our customers with high-end equipment integration and development.
JAI A/S: Leader Vision is expanding quickly - can you tell us what is next for the company?
MJT: Yes, of course. We are excited to accelerate the pre-planning stage and will set up global synchronization of the latest vision applications. This will help our customers directly benefit from our complete system program architecture for free, save their development time and avoid the risk of failure. We will achieve this with the integration of the JAI camera into our system.
JAI A/S: Final question, what are your thoughts on the JAI – Leader Vision partnership?
MJT: Well, partnerships serve their best purpose when they create value-addition. Undoubtedly, that has been the case with the JAI – Leader Vision collaboration. It has advanced our capabilities and added real value to the application, greatly benefiting our customers.
I am sure our shared mission and goal of 'product excellence through innovation' will take this partnership to greater heights in future and boost product visibility in Taiwan.
To learn more about the JAI GOX-2402-PGE, please view this video.