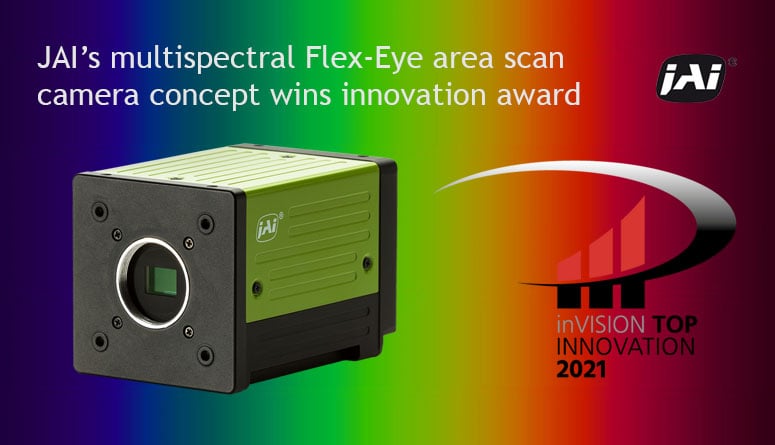 JAI Fusion Flex-Eye multispectral machine vision camera wins inVISION Top Innovations 2021 award.

About the Flex-Eye area scan camera:
With Fusion Flex-Eye you can design the ideal multispectral camera for your vision system. JAI's Flex-Eye concept lets you customize the width and position of your light wavebands (both visible and near infrared) in a single 2-CMOS or 3-CMOS Fusion Series camera, collecting the exact imaging data you need.

The Flex-Eye concept can reveal hidden image data, and can improve the effectiveness of your vision inspection system - perfect for vision systems in food sorting, agricultural, pharmaceutical, medical imaging and many other applications. Choose between 3.2-megapixel or 1.6-megapixel sensors.
Learn more about the Fusion Flex-Eye concept:
Learn more about the Fusion Flex-Eye multispectral camera concept and try out the on-line Fusion Flex-Eye configurator.

Download Tech Guide: Multispectral imaging:
Download this FREE tech guide about multispectral imaging for medical and industrial machine vision systems.
Download Tech Guide

Watch webcast: Using prism-based cameras for multispectral applications:
If you are a vision system designer with a project that needs multispectral imaging capability, this free webinar can help you decide whether a prism-based multispectral camera is the right approach. There are several different types of multispectral cameras currently available and the one you select can have a major impact on your project's success.
Watch the webinar

Contact JAI for additional information and help:
If you want to discuss your vision application before trying the Fusion Flex-Eye configurator you are welcome to contact JAI for a talk and additional information:
Contact a JAI engineer