JAI is further strengthening it´s employee team. A warm welcome to all our new colleagues in Global Support, Product Management, Sales Support and Marketing.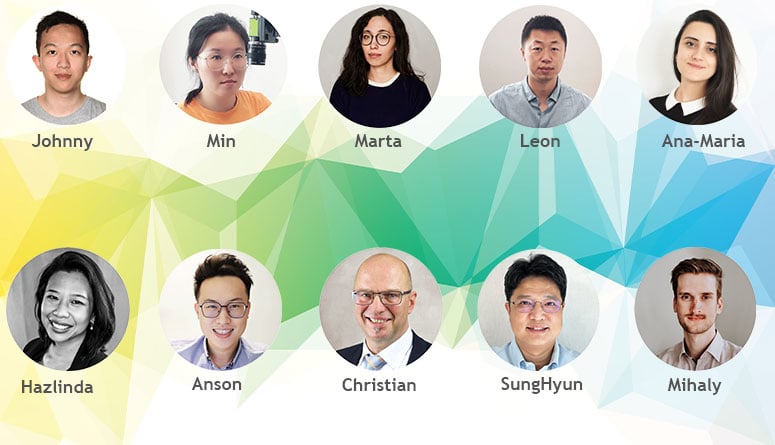 Global Support:
Johnny Ye joins JAI's support team with a master's degree from the Danish Technical University with specialty in Automation and Robot Technology: "I enjoy working with technical customer support questions coming from many different markets and countries and look forward to providing fast and timely response to our customer's requests".
With more than 10 years of experience in the machine vision field, Li Xuemin (Min) told us that she feels "exceedingly happy to provide our customers with the right hardware for their needs, while taking into consideration the various applications and solution, enabling a prompt and suitable response".
With a master's degree in Automation Engineering from University of Padua (Italy) Marta Pasquetti also works with ARM technology like Jetson module programming applications. Marta says: "In my day-to-day work, I assist our customers in finding solutions to their software challenges. We work as a global team to resolve all challenges our customers might be facing developing their software using our SDK"
Zheng Yuanzhe (Leon) is responsible for JAI's China office operation, HR administration, Marcom marketing work and Inside Sales. In addition, he will be assisted to support JAI's team located in China in arranging and fulfilling upcoming shows.

Marketing
Equipped with a Master's degree in Global Marketing and Innovation Management from the University of Southern Denmark, Ana-Maria Dinita imparted to us that "it is exciting to be part of such a global team and be responsible with notifying and exposing the value of such a recognizable brand."
Hazlinda Mohd Nuron, based in Singapore, will be responsible for marketing activities for the Asia Pacific region (APAC), such as the creation and management of all marketing material to support sales as well as conduct marketing activities for social media platform, Search Engine Optimization (SEO) and more.

Sales
Currently located in Singapore as a Technical Manager Presales, Anson Lee is a graduate from the Nanyang Technological University in Singapore, with a Bachelor in Materials Science and Engineering, having also taken an interest in the field of Entrepreneurship.
Anson, who has previously worked as Sales Engineer in the manufacturing automation industry, describes himself as "a risk taker filled with entrepreneurial spirit".
Christian Scheidt is located in Germany and as Technical Manager Presales, he will provide valuable technical product knowledge to JAI's customers and partners in the EMEA region. With more than 20 years of experience in sales and business development management (BDM), Christian worked in industries such as: automation, RFID big data, scanning and printing, in various areas of knowledge and applications.
SungHyun Lee, as JAI's Country Manager will support our customers and partners and will be responsible with all sales activities in Korea.

Product management
As a Global Product Manager, Mihaly Baki, will be responsible for the multi-sensor cameras, making sure that our products will fulfil the rapidly changing requirements of the industry. With this, Mihaly wishes to use and share his know-how to boost the reliability and sustainability of industrial manufactured cameras.