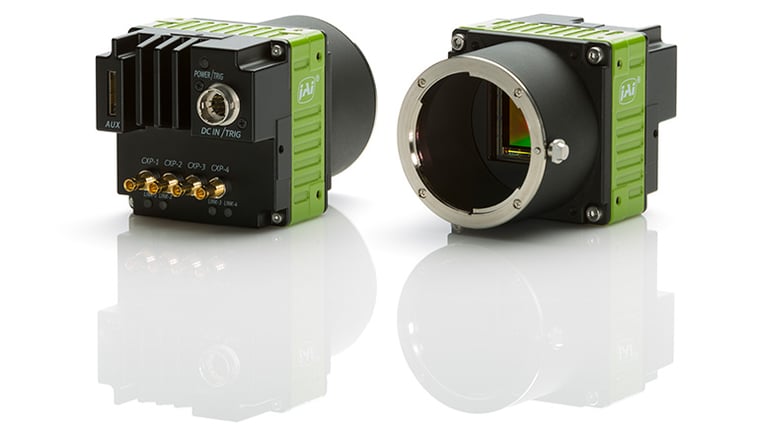 With the MSC 8X8 multispectral camera setting the new standard in photometric analyses, we talk with PANOVOTEC Managing Director Tobias Postler about thinking big.
In the color measurement camera market today, PANOVOTEC's MSC 8X8 multispectral camera is unrivalled in measurement accuracy and speed. This has been made possible by the integration of the JAI Spark 45 MP industrial camera with MSC 8X8's system.
A JAI A/S representative spoke with PANOVOTEC Managing Director Tobias Postler to find out more about PANOVOTEC's new system for photometric analyses using the MSC 8X8 multispectral camera and how it has benefited from the camera partnership with JAI.
JAI A/S: Tell us about the making of the revolutionary MSC 8X8 multispectral camera – the reasons to develop and its intended uses.
Tobias Postler (TP): Adherence to exact color specifications is a critical product differentiator in many industries. For example, in the automobile industry, manufacturers place immense value on ambient lighting and display console luminance as they are major selling points. Likewise, the color-matching mandates for LED operating lights in medical equipment are becoming increasingly stringent.
For these and many other industries, the new MSC 8X8 multispectral camera is a consistent further development of our previous products for photometric analyses and potentiates the possibilities compared to its predecessors. Using a double filter wheel (in the MSC 8X8) that we developed in-house, users have two times eight superimposed filter positions at their disposal, which can be automatically brought into the beam path. This results in 64 different filter combinations, which according to our research, is unique in the market.
As for the intended uses, the system is suitable for both inline uses in continuous production plants and offline applications, such as in the laboratory or for random sample testing.
JAI A/S: Which factors made you choose JAI's Spark SP-45001M-CXP4 industrial camera? Please tell us about the synergies of this camera partnership.
TP: The JAI camera is a perfect fit for the system requirements of MSC 8X8. It has a very high resolution of 45 megapixels, a high bit depth of 14 bits and works with an HDR (High Dynamic Range) mode. When combined with the superior filters of the MSC 8X8, these features produce extremely precise photometric analyses to determine values such as luminance distribution, luminance intensity distribution, dominant wavelength, discrete spectral characteristics, correlated color temperature, optical thermal management and color location.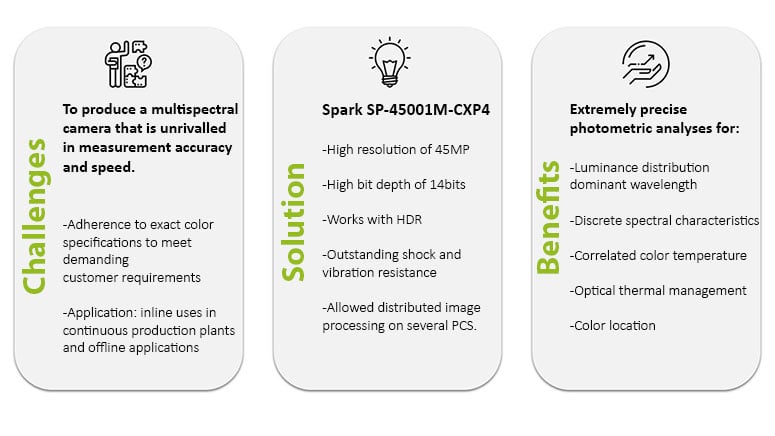 JAI A/S: For context, can you give an example?
TP: Sure. The supplier of a German sports car manufacturer is already using MSC 8X8 in an end-of-line test system for cockpit components and is highly satisfied with the results. The system ensures that no products are shipped with incorrectly equipped lighting components, such as LEDs with the wrong wavelength or brightness, which would lead to customer complaints. It also eliminates the risk of drivers being blinded by incorrect metering or calibration when maximum brightness limits are exceeded at night.
JAI A/S: Was there a "clincher" in your decision to partner with JAI?
TP: Our customers expected very high image quality from the MSC 8X8. In addition to the JAI Spark camera's excellent resolution of 45 megapixels, it was also important to us that the integrated camera had outstanding shock and vibration resistance and allowed distributed image processing on several PCs. This was possible with the Spark camera via the Link Sharing function of CoaXPress.
JAI A/S: Have you used JAI industrial cameras previously for other PANOVOTEC systems?
TP: Yes, we have, and I am happy to say that our past good experience with JAI led to this camera partnership for MSC 8X8. We used the JAI 3CCD camera technology for our Optical Measuring System (OMS) 4.0 to break the speed and resolution barriers, and our overall experience with JAI was excellent.
The direct contact person always gave us reliable and competent advice on general inquiries and camera firmware. From sales to support, we have always been able to rely on professional and friendly cooperation. For example, JAI has always kept the specified delivery dates. That is not a matter of course.

JAI A/S: How would you summarize the benefits of the MSC 8X8's system for customers?
TP: According to our research, there is currently no color measurement camera system on the market that can compete with the MSC 8X8 in terms of measurement accuracy and speed. In high-end applications, our multispectral camera is, therefore, currently the only system that can reliably meet the demanding customer requirements. In this context, the integrated Spark cameras from JAI have a very large share in the performance of the overall system due to their high resolution and speed.
To learn more about the Spark 45MP camera and how you can benefit from it, watch this webinar.
To read more on this case study, download here.
Contact JAI for help:
Let us help you to find the perfect camera to meet your application requirements in high performance multispectral imaging.
Contact a JAI engineer