Pharmaceutical manufacturing is a complex process which mainly deals with the manufacturing of drugs and medicines. Being a fully automated high-speed manufacturing processes, pharmaceutical production is especially challenging. It is subject to strict regulations given by public health authorities.
Defective containers, incorrect or missing medicine, mislabelling, inefficient packaging or decoloring are risks to consumers and thus different stages of the manufacturing process need to be critically inspected. In order to produce safe medicines that minimize consumer risk and succeed in a competitive market at the same time, there is a requirement for highly effective, versatile, and sensitive quality control systems. Optical quality control using camera technology plays an important role to fulfill the challenging inspection tasks in pharmaceutical manufacturing.
Pharmaceutical products come in various forms and packages, the most common being blister packages and tablets. Those consist mainly of three parts: cavity, seal, and the tablet or drug itself. The cavity is made from synthetic material or aluminium and holds the drug.
Cavity and drug are sealed with a synthetic material, aluminium, paper, or soft foil. Though each component is closely monitored prior to packaging, shortcomings still occur during the primary packaging process. Damage to the package or content, including incorrect placement, coloring, or labelling, must be identified and eventually followed by removal of the defective product.
Production numbers are extremely high for most pharmaceutics. Optical quality control systems along with sophisticated machine learning algorithms can handle large numbers, while offering high sensitivity for defect recognition. Using high speed optical control systems, the whole sample can be inspected, which is a major advantage compared to other quality control systems like manual or mechanical inspection which can end up destroying the sample during the inspection process. There are also limitations on the size of the sample that can be handled using mechanical inspection systems.
For many years, inspection of pharmaceutical packages has been carried out with conventional RGB cameras, using only visible features to detect flaws. With the advent of multispectral cameras, one can now move beyond the visible spectrum. Multispectral cameras capture information of multiple discretely positioned spectral bands, including bands outside the visible region.
In addition to visible R-G-B imaging, the additional spectral bands in multispectral imaging can assist in distinguishing different tablets based on their chemical composition, even if they are already enclosed and sealed. Furthermore, the quantity and uniformity of the active pharmaceutical component (APC) in the tablet can be measured.
The possibility to assess the extrinsic and intrinsic properties at the same time has major advantages compared to conventional quality control inspection systems. Extrinsic properties such as package condition, labelling and dosage instructions, and color coding can be inspected using the visible spectrum. Intrinsic properties of medicinal packages such as breakage of pills, fill levels of liquids, foreign objects and quantity of pills can be captured using specific spectral bands – typically in the near infrared (NIR) region.
Multispectral imaging can also be used in applications related to mistaken identities of defects. For example, in parenteral (injectable) drugs, inspection is critical to verify that there are no particles in the parenteral solution. Multispectral imaging can more easily differentiate between bubbles and particles to minimize waste while ensuring the purity of the injectable medicine.
Advanced multispectral imaging also assists in inspecting the chemical composition of pharmaceuticals. Both, intrinsic and extrinsic information can be combined for quality assessment. This allows the producer to have a single quality control setup, which is generally more robust, simpler to operate and to maintain.
Personalized medicine is going to be an important area of pharmaceuticals in the future where medicines would be manufactured based on an individual's underlying health conditions, reaction to specific chemicals, and effectiveness for a specific patient. Camera technology combined with artificial intelligence will continue to play an important role in the quality inspection of personalized medicines.
To support high throughput in pharmaceutical production lines, modern inspection systems will need to be equipped with high speed multispectral cameras, which include the ability to inspect multiple spectral bands at high speeds simultaneously. High performance interfaces such as 10GBASE-T (10 GigE Vision) not only have the bandwidth for high frame rates but also support multi-stream output over a single cable with independent control of each waveband for separate analysis or for fusing together on the host processor.
Another important consideration is the spatial resolution of the camera device. There are a variety of multispectral techniques used in cameras. Some use pixel-level filter arrays or multiple optical paths that sacrifice spatial details for spectral diversity.
Pharmaceutical inspection systems demand high spatial resolution per channel to ensure that small defects such as cracks or foreign particles on pill surfaces, air bubbles in liquids, dosage instructions on extrinsic packaging, etc. are clearly identifiable.
Accurate alignment and overlap of the individual spectral bands assist in precisely identifying the position and size of the defects. It also helps to simultaneously trace and correlate the defect characteristics seen through different spectral bands. A multispectral camera with full sensor resolution and a single optical axis for all spectral bands is often the most precise method to achieve such results.

Lastly, builders of future pharmaceutical inspection systems will benefit from new customization technology that allows them to precisely specify the size and location of the spectral bands needed for their particular application. In this way they can keep the number of wavebands to a minimum in order to maximize the efficiency of the system. Having more spectral bands than needed can result in challenging light source requirements and can drastically reduce the speed of the multispectral system.

Vision system builders can use the customization approach to create the right balance between the number of bands, the speed of the system and effectiveness of the inspection process.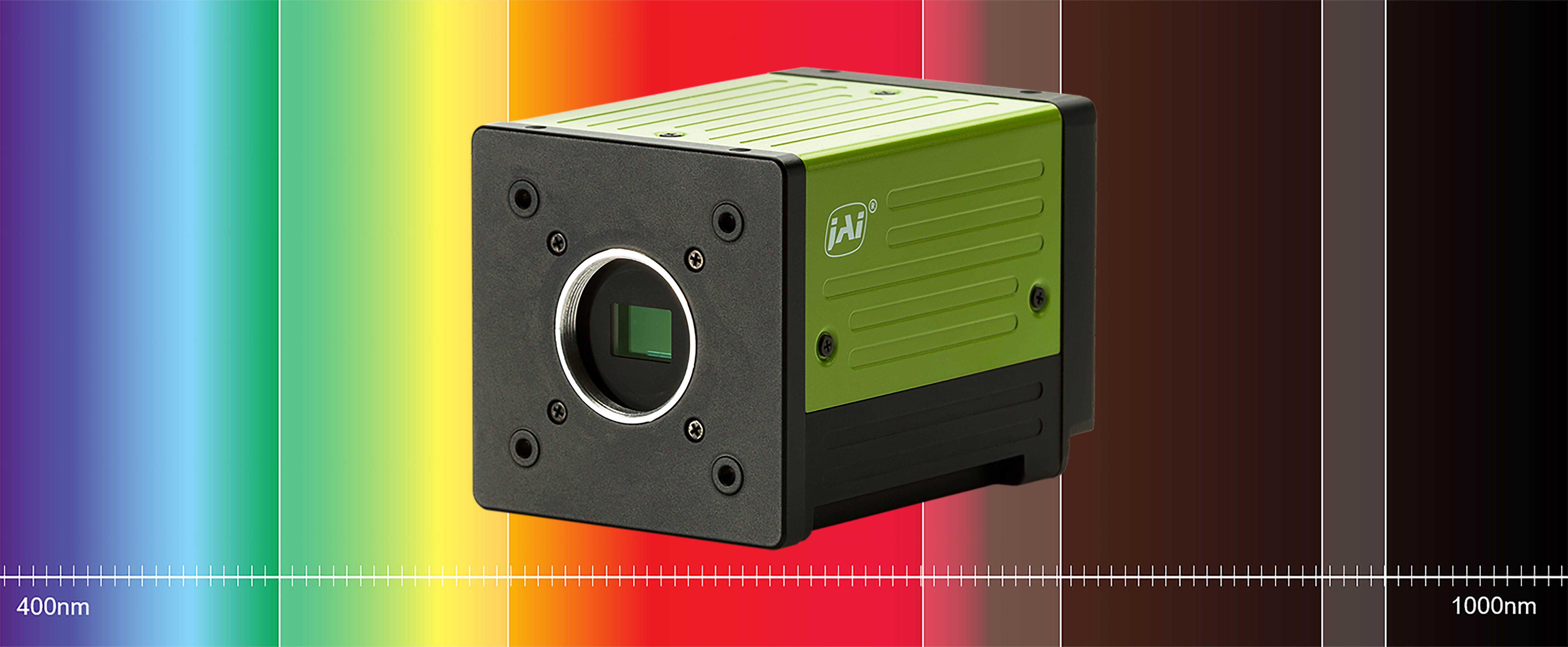 About JAI multispectral customization technology: With Flex-Eye you can now design the ideal multispectral camera for your vision system. JAI's Flex-Eye concept lets you customize the width and position of your light wavebands (both visible and near infrared) in a single 2-CMOS or 3-CMOS Fusion Series camera, collecting the exact imaging data you need. Choose 3.2-megapixel or 1.6-megapixel sensors with multi-stream output over a high-speed 10 GigE interface. Prism design means precise alignment of wavebands regardless of motion or viewing angle. Perfect for vision systems used in food sorting, agricultural, pharmaceutical, medical and many other applications.

More resources:

Fusion camera series for multispectral imaging
Download Tech Guide: Multispectral imaging:
Download this FREE tech guide about multispectral imaging for medical and industrial machine vision systems.
Download Tech Guide

Watch webcast: Using prism-based cameras for multispectral applications:
If you are a vision system designer with a project that needs multispectral imaging capability, this free webinar can help you decide whether a prism-based multispectral camera is the right approach. There are several different types of multispectral cameras currently available and the one you select can have a major impact on your project's success.
Watch the webinar

Contact JAI for help:
Let us help you to find the perfect camera to meet your application requirements in your life sciences application.
Contact a JAI engineer