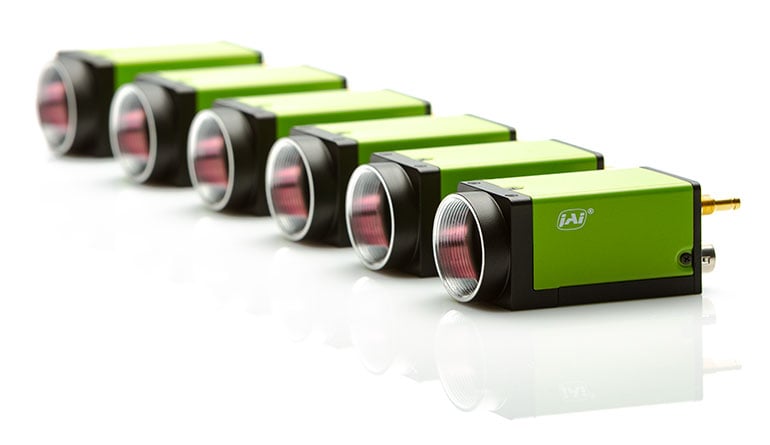 JAI's Go-X Series of small industrial machine vision cameras has expanded with 24 new global shutter camera models featuring the latest Sony Pregius S CMOS sensors.
The additional models are divided into two interface groups, with 12 models having CoaXPress 2.0 interfaces and 12 models having GigE Vision (1000BASE-T) interfaces. 12 additional Go-X Series cameras featuring GigE Vision interfaces operating at 5GBASE-T speeds are planned for later this year.
State-of-the-art CMOS sensors
Pregius S sensors feature backside illumination to support smaller pixel sizes without sacrificing sensitivity. JAI has leveraged this technology to provide customers with significantly higher resolution options while still maintaining the compact size of the Go-X Series cameras.
While the Go-X Series previously offered resolutions ranging from 2.3 megapixels to 12.3 megapixels, the additional models now extend that range up to 24.5 megapixels. Yet thanks to the 2.74 µm pixel size, even the new 24.5-megapixel Go-X Series cameras have the same 29 mm x 29 mm size as the other models and a 1.2" optical format compatible with C-mount lenses. Camera lengths vary from 51.5 mm to 55 mm depending on the interface.
The 12 models with CoaXPress interfaces add a third interface option to the Go-X Series, which previously offered cameras with either GigE Vision or USB3 Vision interfaces.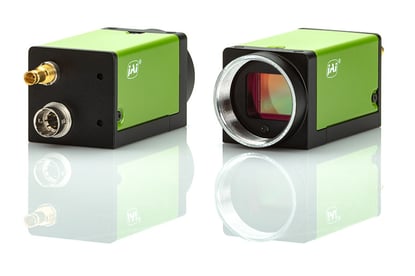 The 12 new GigE Vision models offer the networking capabilities and the grabber-less connections that have made this interface standard so popular in the machine vision industry. They operate at speeds from 4 fps for 24.5-megapixel output to 23 fps for 5.1 megapixels, as dictated by the 1 Gbps limit of the interface.
Xpress Function
For customers wanting the convenience and flexibility of the GigE Vision standard, but needing higher frame rates, JAI has included a lossless compression function called "Xpress" in the new GigE Vision models. The Xpress compression algorithm encodes redundant image information to reduce the size of the data being output from the camera while enabling it to be fully reconstructed by software running on the host processor.
Xscale Function
All of the new models also include a flexible, sub-pixel scaling function called "Xscale." Xscale provides an alternative to traditional binning which is limited to "whole" pixels, such as 2x1, 2x2, 4x4, etc. Instead, Xscale, supports the use of floating-point numbers to create virtual pixels that include "fractions" of various pixels to help match pixel sizes, optical formats, and resolutions when replacing older cameras.
A total of 48 models to meet your needs!
The new cameras join the 24 existing Go-X Series GigE Vision and USB3 Vision cameras to bring the total size of the series up to 48 models.
All Go-X cameras feature high shock and vibration ratings of 80G and 10G, respectively, and are designed to optimally dissipate heat to avoid breakdowns in typical industrial environments and under non-stop operating conditions. Like the original models, the new models carry a six-year warranty.
Learn more about the new Go-X models and all the new features:
The Go-X Series
Pregius S sensors
Xpress Function
Xscale Function