By JAI | February 5, 2020
JAI has introduced a new Fusion Series prism-based, multi-spectral camera featuring three separate multi-spectral wavebands. The new FS-3200T-10GE-NNC uses a dichroic prism that divides incoming light to three separate CMOS imagers while maintaining a common optical path. This enables the simultaneous capture of a 3.2-megapixel Bayer color image plus 3.2-megapixel images from two separate near-infrared bands (700-800 nm and 820-1000 nm), all with perfect pixel-to-pixel alignment at up to 107 frames per second.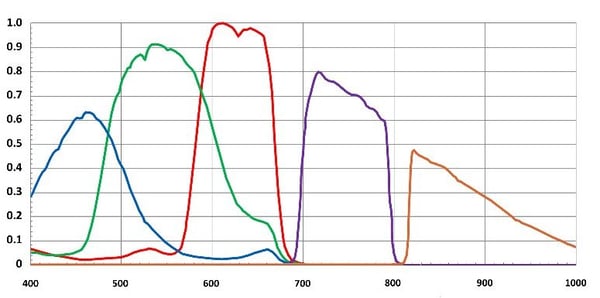 FS-3200T-10GE-NNC Spectral Response
According to JAI, the development of the new FS-3200T-10GE-NNC is in response to specific customer requests for even greater multi-spectral analysis capabilities than in the company's two-channel Fusion Series models, and paves the way for additional multi-spectral launches throughout the coming year.

By splitting the NIR information into "low" and "high" bands, the FS-3200T-10GE-NNC helps designers of multi-spectral systems to deliver better results by leveraging the different way that some biological substances (in life sciences applications), foods, chemicals, and other materials appear or fluoresce when viewed in different portions of the NIR spectrum.
Download datasheet on FS-3200T-10GE-NNC
Application examples:

Adding value to artificial intelligence in farming:
Precision agriculture or intelligent farming has seen an exponential growth in the recent years. Removal of weeds or wild plants is of growing importance in intelligent farming.



Life Sciences:
Multi-spectral analysis helps identify specific types of cells, viruses, or other entities that may be difficult to classify in a single spectral band.

Inspection of nuts, almonds and olives:
The color, size, shape and damage of nuts and almonds can be inspected using the RGB channel, while foreign objects (including olive pits) are more clearly seen with the NIR channel.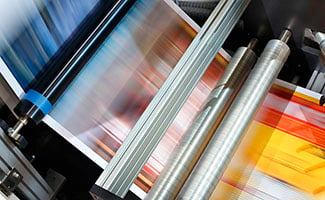 2D print inspection:
Color inspection of magazines and pharmaceutical packaging as well as currency inspection looking at color correctness, water marks and security features woven into the bank notes.

Flat panel inspection:
Surface inspection of flat panels/displays looking for scratches and defective screen pixels.

The unique multi-spectral prism camera design, which JAI introduced more than 10 years ago, enables multi-spectral analysis to be easily applied to a wide range of machine vision inspection tasks, without the cost and complexity of multiple camera/lighting setups and without the added mechanical systems and motion challenges created by filter-wheel types of multi-spectral cameras.
The new FS-3200T-10GE-NNC model features Bayer and monochrome versions of the Sony Pregius IMX252 CMOS sensor offering 3.2-megapixel resolution (2048 x 1536 pixels) and a 1/1.8" optical format. The maximum full frame rate of 107 fps for 8-bit output represents a substantial gain over the original Fusion Series multi-spectral CCD cameras which had a maximum resolution of 1.3 megapixels and a top frame rate of only 31 fps.
The high throughput of the new camera is supported by a 10GBASE-T (10 GigE) interface equipped with integrated auto-negotiation technology, providing automatic backwards compatibility to NBASE-T (5 Gbps and 2.5 Gbps) and traditional 1000BASE-T (1 Gbps) output for customers running vision applications on these lower-speed Ethernet standards. In addition to 8-bit output, the camera can provide 10-bit and 12-bit output, independently-selectable for the Bayer color and NIR channels.
The 10 GigE interface complies with the GigE Vision 2.0 standard and uses a triple-stream approach over a single cable to efficiently provide the Bayer and NIR output for separate analysis or for combining on the host processor. The interface also supports the Precision Time Protocol (IEEE 1588) to enable network-level synchronization in multi-camera systems.
In addition to the increase in frame rate, the new CMOS-based multi-spectral cameras have nearly double the sensitivity of the original CCD models in the lower band of the NIR spectrum (700-800 nm) and approximately 20 percent more sensitivity in the upper NIR band, resulting in higher quality images under typical conditions, with less illumination needed to produce proper signal-to-noise ratios for inspection tasks.
The FS-3200T-10GE-NNC has a size of 62 mm x 62 mm x 86.5 mm, with a lens mount supporting C-mount lenses.
Read more - For additional information about the Fusion Series and the new 3-CMOS multi-spectral camera visit the Fusion Series page.