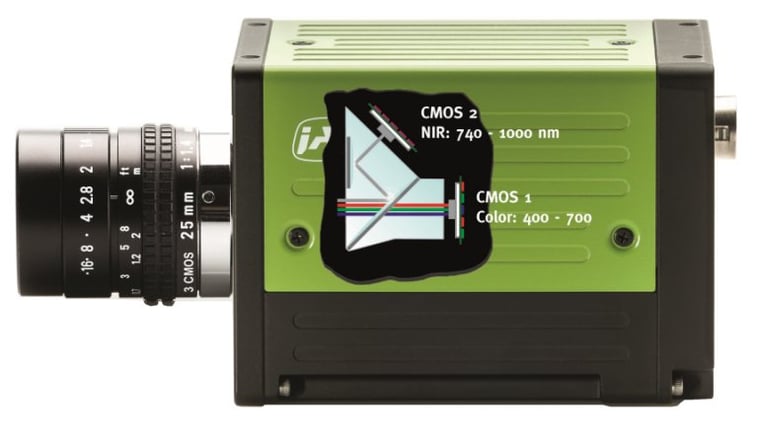 JAI has launched a new generation of prism cameras in its Fusion Series of multispectral imaging solutions. The new FS-3200D-10GE and FS-1600D-10GE cameras have two-channel dichroic prisms that divide the incoming light to two precisely-aligned CMOS area scan imagers. One channel captures light from the visible spectrum (approximately 400 nm to 670 nm) and delivers it to a Bayer color sensor, while the second channel directs light from the near infrared (NIR) portion of the spectrum (approximately 740 nm to 1000 nm) to a monochrome, NIR-sensitive sensor.
This unique prism camera design, which JAI introduced more than 10 years ago, enables multispectral analysis to be easily applied to a wide range of machine vision inspection tasks, without the cost and complexity of two separate camera/lighting setups and without the added mechanical systems and motion challenges created by filter-wheel types of multispectral cameras.
Download datasheet on FS-3200D-10GE
Download datasheet on FS-1600D-10GE
The new FS-3200D-10GE model features Bayer and monochrome versions of the Sony Pregius IMX252 3.2-megapixel CMOS sensor offering 3.2-megapixel resolution (2048 x 1536 pixels) and a maximum full frame rate of 123 fps for 8-bit output. Meanwhile, the FS-1600D-10GE features Bayer and monochrome versions of the Sony Pregius IMX273 CMOS sensor with 1.6-megapixel resolution (1440 x 1080 pixels) and a maximum full frame rate of 226 fps for 8-bit output. This performance represents a substantial gain over the original Fusion Series multispectral cameras which had a maximum resolution of 1.3 megapixels and a top frame rate of only 31 fps.
The high throughput of the new cameras is supported by a 10GBASE-T (10 GigE) interface equipped with integrated auto-negotiation technology, providing automatic backwards compatibility to NBASE-T (5 Gbps and 2.5 Gbps) and traditional 1000BASE-T (1 Gbps) output for customers running vision applications on these lower-speed Ethernet standards. In addition to 8-bit output, the cameras can provide 10-bit and 12-bit output, independently-selectable for the Bayer color and NIR channels.
The cameras are also equipped with a 5x5 de-bayering algorithm if users would prefer to output 24-bit or 30-bit RGB output instead of raw Bayer.
The 10 GigE interface complies with the GigE Vision 2.0 standard and uses dual streams over a single cable to efficiently provide the Bayer and NIR output for separate analysis or for combining on the host processor. The interface also supports the Precision Time Protocol (IEEE 1588) to enable network-level synchronization in multi-camera systems.
In addition to the increase in frame rate, the new CMOS-based multispectral cameras have approximately 20 percent more sensitivity in the NIR region of the spectrum than the original CCD models, resulting in higher quality images under typical conditions, with less illumination needed to produce proper signal-to-noise ratios for inspection tasks.
The FS-3200D-10GE and FS-1600D-10GE share a common size of 62 mm x 62 mm x 86.5 mm, with a lens mount supporting C-mount lenses.
Applications
Some common uses for multispectral imaging include fruit and vegetable sorting - examining both visible properties like color and size, as well as non-visible elements like bruises, and moisture content – inspection of blister packs or other plastic film containers, vegetation analysis, inspection of labels and fill levels in opaque bottles, and removal of inorganic materials (rocks, plastic, etc.) from foods.



Red beans - Foreign objects are clearly seen via the NIR channel (right). Foreign objects with lighter color tones (in this case a yellow pebble) are better disclosed via the color channel.
---

Tea leaves -The color and quality of tea leaves are inspected using the color channel, while foreign objects are clearly seen with the NIR channel.
---

Back side of a chocolate package - Print and bar code are inspected via the visible light spectrum channel, while the "best before date" is better inspected using the NIR spectrum channel.
---

Read more - For additional information about the Fusion Series and the new 2-CMOS multispectral cameras visit the Fusion Series page.